The Japanese referred to Kinmen as "paradise" during his rule of the islands from 1937 to 1945, but Hsueh family diaries show otherwise.
By Han Cheung / Staff Reporter
Oct. 24 to Oct. 30
The "eight years of vicissitude" (八年滄桑) of Hsueh Yung-tung (薛永棟) officially began at dawn on October 26, 1937 when the Japanese attacked Kinmen.
After blockading the island on September 3, the Japanese limited their activity to reconnaissance and survey missions until October 23, when larger warships entered the harbor. Things quickly escalated and the invaders overran the island, facing little resistance over the next few days as villagers fled in droves, many heading for China or Southeast Asia. Japanese military records show that Chinese Nationalist Party (KMT) troops stationed there fled immediately and only one person – a member of the local self-defense force – died in the process.
Photo courtesy of Wikimedia Commons
The occupation came just three months after the Japanese launched the Second Sino-Japanese War, bringing them one step closer to their true objective: the vital port of Xiamen.
Hsueh had made his fortune in the Philippines, and returned home in old age to come across this misfortune. More than half of the 571 inhabitants of his village of Zhushan (珠山) had fled, including his entire family in addition to his wife and three servants. Although her life is not in danger, the sudden desolation haunts her.
Hsueh kept a diary of life under what he called the "puppet government" (偽政府) until his death in 1943, at which point an unknown source took over. Its entire contents were published after the end of the war in the Hsueh family's Shining (顯影) newsletter.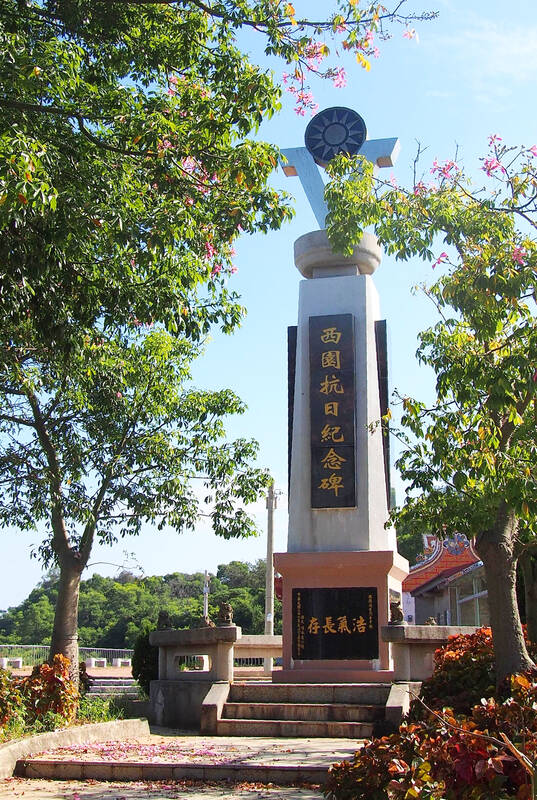 Photo courtesy of Wikimedia Commons
Contrary to Hsueh's somber tone, local officials in the Japanese-established administrative office spoke of a productive and harmonious society that flourished after being freed from the clutches of the evil KMT. The invaluable book, Blazing Sun Shining (烈日顯影) by Lin Cheng-chen (林正珍), provides original texts from both sides, creating a fascinating juxtaposition.
LIFE UNDER OCCUPATION
The invasion force disbanded on October 29, leaving 250 men stationed on the island. On November 28, the First Division of the White Hawk Defense Force took over and set up its headquarters in the present-day Jincheng (金城) area. Meanwhile, the KMT moved the government office from Kinmen County to Dadeng Island (大嶝島) to the north, which is now part of Xiamen City.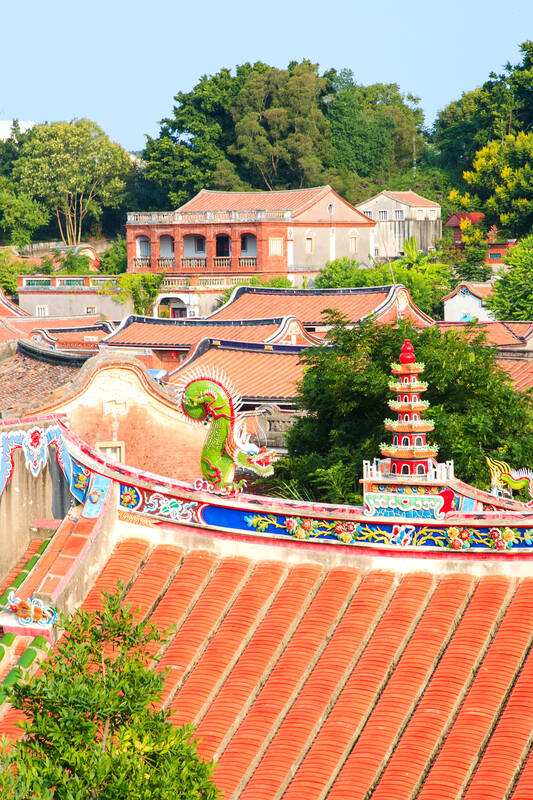 Photo courtesy of Wikimedia Commons
In May 1938, the Japanese used Kinmen as a springboard and succeeded in capturing Xiamen. With this event, the Japanese controlled both sides of the strategic Taiwan Strait.
Unlike Taiwan, Kinmen was not a colony; it became an occupied Xiamen Special Municipality with its own administrative office and police force. A public company was established to produce salt, trade as well as manage transport, banking and other essential industries.
By 1939, the population had rebounded somewhat, as many of those who had fled to Xiamen had returned home.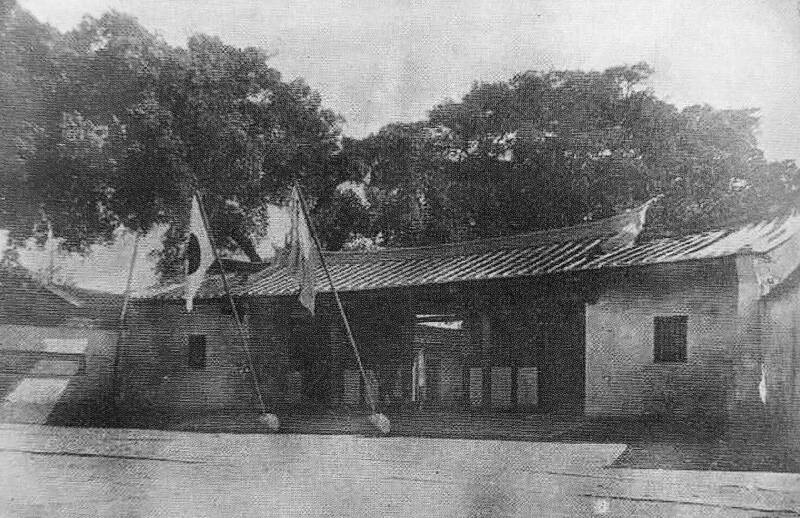 Photo courtesy of National Central Library
Lin writes that in addition to two attempts by the KMT to reclaim the island and several guerrilla attacks by Kinmen exiles based in Fujian province, there were few conflicts with the occupying troops.
"Weddings, funerals, celebrations, religious activities as well as folkloric activities and entertainment seemed unaffected by the occupation," she wrote.
However, with remittances from the many islanders living abroad cut off, Hsueh writes that there was often not enough to eat, especially after a bad harvest in 1938. Thieves often fled with crops and other household items at night, causing even more difficulty.
Most accounts of Japanese mistreatment of locals took the form of forced labor which, in addition to various construction projects and transportation duties, included planting opium for the Monopoly Office in Taiwan. Drugs were also sold in Kinmen and many residents became addicts.
As Japan lost ground towards the end of World War II, the military also seized raw materials and resources from the people. Allied bombing increased, with one case on August 30, 1944 killing 19 islanders, including two relatives of Hsueh.
In June 1945, around 500 men were forcibly conscripted with their mules and sent to China. Only about half of them returned home, and those who did were branded traitors by the KMT.
A BRIGHT PARADISE?
According to Japanese reports, however, the people of Kinmen were delighted with their arrival. A Taiwan Daily News (台灣日日新報) report from November 1937 states that the islanders were grateful to the Japanese for treating them during a malaria epidemic and asked the Japanese to establish an official diet as soon as possible. He also alleged that those who fled to China were all massacred by KMT troops.
"Due to the Japanese occupation, the islanders are finally freed from the harsh and exploitative rule of the Chinese government," another post read. "Under the protection of disciplined but kind Japanese troops, they can fish and farm without worry. Japanese doctors also treated local illnesses with care…and cured patients. It's as if the sun is finally shining on the islanders again.
The reports all follow the same tone, with one describing how the local self-defense association asked Japanese troops to "promise never to send Kinmen back to China."
"Kinmen is a real paradise," read one headline, highlighting how the islanders were proactively trying to overturn the anti-Japanese sentiment of their relatives living overseas. These kinds of reports continued until around 1942.
The local government, mostly made up of local pro-Japanese, Taiwanese, or Japanese-territorial Chinese, was under the Japan East Asia Development Council. Administration chief Wang Ting-chih (王廷植) thanked Japan for saving the island from the clutches of KMT leader Chiang Kai-shek (蔣介石), whose collusion with the Chinese Communist Party to fight the Japanese would mean the loss of China.
"Friendship between China and Japan is the only way to maintain eternal peace in East Asia," Wang said. "I want to remind the people to free themselves from the spell of Chiang's regime and lean towards peace!"
The bloodiest incident of those eight years involved two Taiwanese officials, who were abducted in 1943 by anti-Japanese agents from the Xiyuan (西園) salt fields and taken to China, where they were executed. The Japanese arrested about 300 young men in Xiyuan whom they suspected of abetting the agents and tortured many of them to death. Four were found guilty and executed on the beach. A monument in Xiyuan commemorates this tragedy, as well as the many anti-Japanese Kinmen exiles who died on mission.
The Japanese surrendered to the Allies on August 15, 1945. The Taiwanese in Kinmen were then attacked by locals and sought protection at Japanese Army Headquarters. After a period of two months without a government, the new county commissioner Yeh Wei-tsou (葉維奏) landed under high military protection on October 3, 1945.
A massive island-wide celebration took place on October 10, bringing this chapter of history to a close.
Taiwan in Time, a chronicle on Taiwan's history published every Sunday, highlights important or interesting events in the country that have anniversaries this week or are related to current events.
Comments will be moderated. Keep comments relevant to the article. Remarks containing abusive and obscene language, personal attacks of any kind or promotion will be removed and the user banned. The final decision will be at the discretion of The Taipei Times.