Over fifty years ago, on a honeymoon in New Orleans, the owner of the honeymoon apartment left Billie Landry and her husband a pair of frozen rib eye steaks as a gift from wedding. He imagined the steaks well seared on the grill.
She said: "We can't afford grilled steaks! with the practicality of a thrifty bride, finding ways to stretch the two cuts of beef beyond a meal.
As a butcher's daughter, Landry prized the ribeye as one of the most expensive cuts of beef, because the tender rib only accounts for about 10% of the cow's total meat yield. This fatty, flavorful piece of meat offers self-contained goodness – it doesn't need gravy, unless of course you want to get some over the course of a few meals.
Landry's practicality won out.
She turned the first ribeye into two meals of a brown sauce served over rice. Later honeymoon rib eye number two inspired what would become a family favorite – rib eye spaghetti, chunks of rib eye in a red tomato sauce made with a roux and served over spaghetti.
"My daughter Jeri has embraced this meal and often sends it to families during times of stress: a death or illness in the family, a new baby, a move, power loss or a flooded house," Landry said.
I was with Landry and her daughter Jeri Theunissen as they whipped up a pot of rib eye spaghetti in her colorful kitchen at Erath, a maximalist delight with art on the walls and avocado green accents. The words "coush coush" are written on his stove – a reference to another of his favorite recipes, the one that was printed in John Folse's "Something Old & Something New", a collection of recipes from Cajun and Creole cooks.
The mother and daughter joked about the points of variation that developed in the rib eye spaghetti recipe as it was passed down from one generation to the next. Theunissen likes to use thin striploins.
"They're more economical," she says, "and I let my sauce cook for a long time, so the bits end up being really tender at the end."
Landry uses thick ribeyes and started letting them sparse in the browning process, putting them in the sauce near the end of the simmering time just long enough to let them cook. She also adds her celery and peppers later, so they hold their shape, adding chunks to the sauce.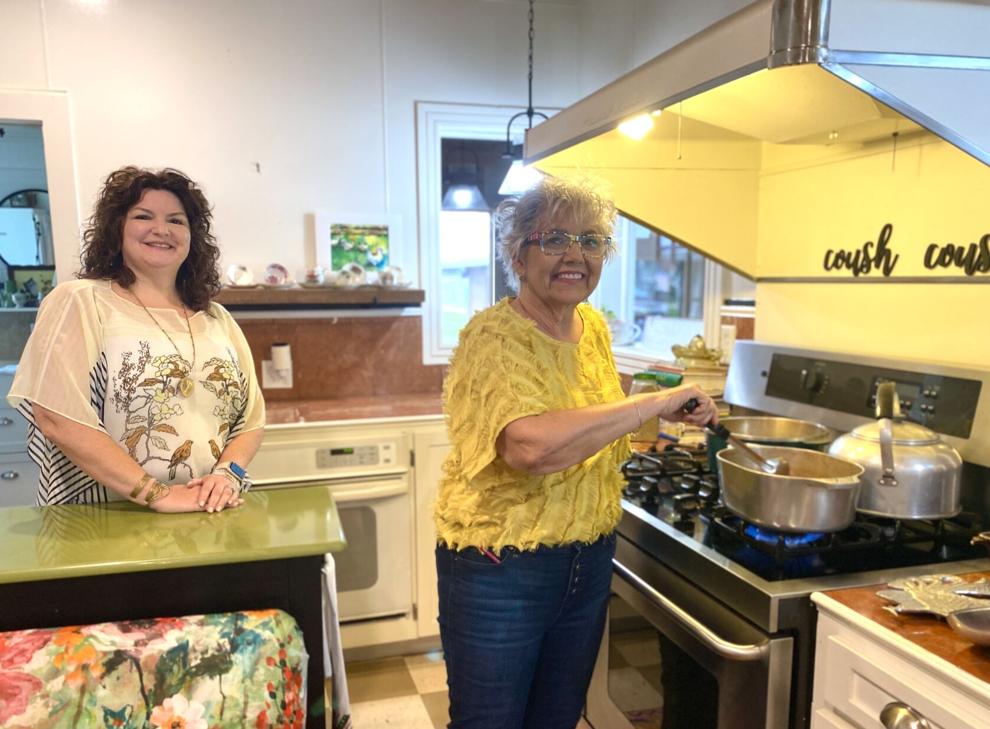 "My family is split on smooth or thick sauce. I like it extra thick made with diced and whole tomatoes. When I want to please the smooth half of the family, I only use tomato sauce, except for the Rotel," Landry said.
Both noted the importance of caramelizing the onions for the sweetness that thwarts the acidity of the tomatoes. Theunissen recalled that her children's nanny taught her a trick when you ran out of onions or avoided them for dietary reasons: place the white sugar over medium heat and brown it slowly in the pan. stove.
Landry insists on adding Accent. "It won't be as good if you don't," she noted confidently.
Sold under the brand name Accent, monosodium glutamate (MSG) was developed over a hundred years ago by a Japanese chemistry professor who isolated the specific substance in seaweed that Japanese cooks had long used to provide more of umami, or flavor, to their cuisine. food. MSG is no longer derived from seaweed but is made by fermenting carbohydrate sources like sugar cane or molasses. It has earned a tainted reputation over the years, with some claiming to be susceptible to it.
Having believed in the anti-MSG hype myself, I asked Theunissen if it was necessary for the recipe, she shook her head.
"I've never used it," she says.
During lunch, the mother and daughter remembered that they weren't allowed in the kitchen when they were growing up.
"My dad was a picky eater, so I guess my mom didn't want me to mess up," Billie said as everyone reminisced about the different ways they had learned to cook – from cherished cookbooks, friends and husbands who cook.
I listened and alternated bites between the ribeye spaghetti and the slice of pineapple sprinkled with cheddar cheese that Billie recommends serving on the side; the intense flavor of the rich sauce contrasted with the bright flavor of the pineapple.
"I think some people are born to cook," concluded Billie – and after sharing a meal with her, I think she's one of those people.
Rib Eye Spaghetti
4-5 servings; the recipe is from Billie Landry
⅓ cup olive oil
2 rib eye steaks, medium thickness
1 onion, chopped
2 tablespoons of your favorite light to medium brown roux
10 ounces Rotel tomatoes
14.5 oz can Italian style stewed tomatoes
28 ounces tomato sauce or 28 ounces diced tomatoes (your choice for desired consistency)
½ to 1 green pepper
½ cup sliced ​​celery
1 tablespoon Italian seasoning
Tony Chachere seasoning to taste
1 teaspoon Accent Seasoning
Garlic powder to taste
Salt and black pepper to taste
16 oz package of spaghetti noodles
Heat ⅓ cup olive oil in a large Dutch oven over medium heat.
Brown the sirloins on both sides in the hot oil. The meat should be rare. Remove to cool.
Add the onions to the browning oil in the Dutch oven and sauté until soft and brown, about ten minutes.
Stir the roux into the onions.
Add all the tomatoes and tomato sauce, if using, to the onion and roux mixture. Simmer until the tomatoes begin to separate from the oil, at least an hour.
Cut the ribeye into bite-sized cubes and add to the red sauce. Simmer 15 minutes.
Add bell pepper, celery, seasonings and garlic powder about 30 minutes before serving. The ribeye pieces should be tender at this point.
Add salt and pepper to taste.
Meanwhile cook the spaghetti al dente.
Serve the red sauce over spaghetti with sautéed green beans and canned pineapple slices sprinkled with grated cheddar cheese or Paula Dean's Pineapple Casserole. Pairs well with a Cabernet.