ohDuring his long career – he was a master draftsman at the age of 12 – the Japanese genius Hokusai (1760-1849) was so prolific that it seems absurd that the West knows him especially for a single work, The great wave. His thousands of images were treasured all over Japan. For sale as inexpensive prints – the Wave originally cost no more than a double serving of noodles – and in the best-selling volumes in city bookstores, they reached all corners of the country through traveling libraries.
One of these volumes was to be an encyclopedia, with a flamboyant title The big picture book of everything. But for some reason, the book was never published. Hokusai made 103 designs for him, known to scholars but out of sight in the private collection of a French jeweler until his death in 1942. After which they disappeared, almost forgotten until 2019, when Timothy Clark of the British Museum heard of them at an auction and managed to secure them for the nation. This magnificent exhibition, blocked since it opened in early fall, is the first time they have been presented to the public.
The first thing you see is the box in which these fragile drawings were kept: a small house for such grandeur. But the proportions are exact, because these designs are no bigger than postcards. In black and white, in pen and ink, each is so densely detailed that it is inherently encyclopedic. Hokusai can't draw as much as a cat without including an extremely detailed hibiscus branch and then adding another cat for a spiky encounter. His drawing of a camel incorporates an orangutan crouching intensely on its back, a crafty black fox and a raccoon dog soaring into the white space that remains. The world is both real and mythical.
It is possible that Hokusai encountered a camel, and his image is charming and precise. But the Japanese were not allowed to travel, in his day, spending their entire lives in national lockdown. Like Dürer before him, Hokusai drew a rhino without ever having seen one, but it is an attractive and ancient creature with three horns, fur, and a curious tortoiseshell cover. The encyclopedia was intended for children and adults alike.
India and China were among its themes. Hokusai's drawing of an Indian holy man is almost a mirror of his Japanese equal, but with a little less hair, both sashaye like elegant geishas. He drew a Mongolian warrior with soft, weary wisdom in his aging face – still such human acumen – and a Siamese traveler meticulously examining a length of flowing silk. No matter how foreigners from other nations appear, they always acquire delicacy, wit and beauty through the art of Hokusai.
There are many myths of origin. Three men make the very first rice wine, with a Heath Robinson contraption that includes pumps, presses, and cantilever poles they swing on for comedic effect. The paper is invented by the Japanese, in a long tub of mulch; then the printing press; and then, with good reason, the fine black ink with which the three advances are represented on this single sheet. All of this is clear and precise, however fanciful it may be.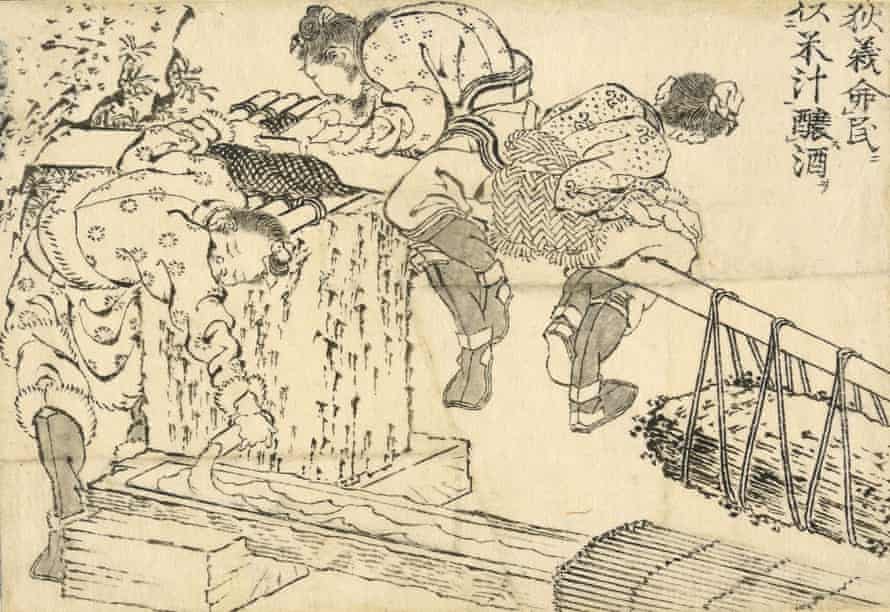 Elsewhere, you need the title (written in Japanese on each drawing) to understand what is happening in certain scenes. Two smiling men hold up what appear to be sparkling fireworks on long sticks in a rainstorm. Here is the headline: "Using the Marrow of a Red Leopard, Emperor Wu Designed Torches that Stayed Lit even in Torrential Rain.
Radical, revolutionary, dynamic: Hokusai's graphic notations surprise every time. The rain lines the page with fine lines, sometimes crisscrossing, sometimes broken, its arrival on an invisible surface described in a splash of dots. Lightning shoots outward in white rays from a central disc, still blank, which reads like the moment of a nuclear explosion. The eyes are an astounding grammar of commas, hyphens, cedillas, and dots, painstakingly inflected to describe each individual face.
Nature is amazingly personified. Waterfalls rise and fall, their bubbles resemble frothy cherry blossoms. The clouds form like rocks, alternately like a flower, alternately like a foaming brine. Everywhere you see portents of the famous wave (it was yet to come) flexing its pictorial claws, scattering moss that looks like snowfall, thickets of leaves, and even a legendary Chinese boulder in a dragon slaying melodrama.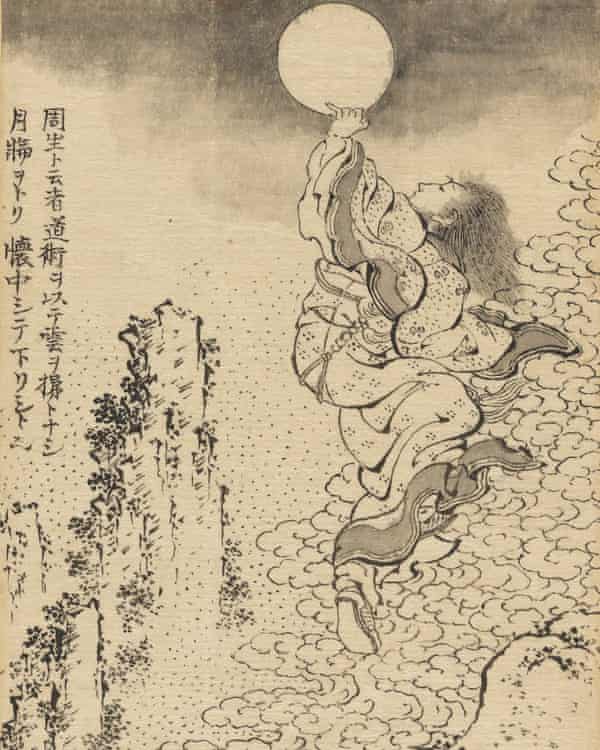 Hokusai's sense of humor is evident everywhere, especially in eye-catching games. Spot the big bear under this waterfall (made up of large miniature waves). Find the moon among the shifting branches. A massive but gentle elephant is tenderly cared for by two young servants, but one is half-hidden behind the mass of the juggernaut.
Hokusai was almost 70 years old when he proposed this project to his publishers. He had suffered a stroke, the death of two wives, the poverty and intransigence of his grandson, whose debts he was forced to pay. Misery was on the horizon. Yet even under these circumstances, his vision never falters (nor his sight) and his imagination soars. The most beautiful image here shows a Taoist master climbing a ladder of clouds to pluck a pale moon from the twilight sky. It could be an iconic self-portrait.
Hokusai's drawings are extremely rare. The creation of his woodcuts required the sacrifice of his drawings. The page would be placed on a block of wood; the sculptor cut directly through the lines; the original image was therefore destroyed. It's sad to think that The big picture book of everything was never released, and that Hokusai didn't make any money, it's less of a loss when you consider the designs on borrowed time before us now, revealing his first thoughts and actions, in this gripping spectacle.